Know the Difference Between Dye Ink and Dye Sublimation Ink
Share
Issue Time

2023/01/13
Summary
Dye and sublimation inks are commonly used in inkjet printing. Contrary to what many people believe, there is a big difference between these two inks and here are their key features.
Dye and sublimation inks are commonly used in inkjet printing. Contrary to what many people believe, there is a big difference between the two inks.
The following are the main features of dye and sublimation inks:
Before we get into the pros and cons of using dye ink, it's important to talk about what dye ink actually is.
Dye ink is the standard ink used in inkjet printers. It is made of water and colorants. Colorants give the ink its "color".
Pros and Cons
Dye inks often come in a variety of colors, which makes them suitable for decorative or artistic purposes. The ink sticks easily to textile fabrics, printer paper, or any other suitable medium.
Due to their small molecular size (1.5-4 nanometers), dye inks can produce vivid colors. Another advantage of using dye ink is that it is more economical than other inks, such as pigment inks.
On the other hand, the biggest disadvantage of dye ink is that it will destroy the quality of printed products when it encounters water or overheating. When you're printing with dye inks, be very careful not to expose the final product to water. A few drops of water will allow the ink to flow through the paper.
When Should You Use It
Dye inks are a good choice if you need to print documents and photos. It is much more economical than pigment ink.
Dye sublimation inks are dyes that can be printed with heat and pressure on specific items such as t-shirts, mugs, plaques, coasters, and more. Heat and pressure help convert the dye to a gaseous state rather than a liquid.
Pros and Cons
Dye sublimation inks are high-quality waterproof inks. Ink will not smear due to high temperature. Plus, dye sublimation inks last longer than other inks.
Since the imprint is dye based rather than ink, the dye becomes part of the product. Dye sublimation inks have higher printing accuracy and performance and provide stunning results. Sublimation products will not crack, peel or wash off.
Sublimation inks are used in textile printing or for personalization or promotional items. However, this ink can be used on specific materials such as polyester and polyester-coated substrates. Other materials, such as cotton, cannot withstand high temperatures during the printing process.
When Should You Use It
Dye sublimation is the perfect ink for transferring graphics onto pre-coated ceramic, metal, plastic, or polyester t-shirt prints. Interested in purchasing premium dye sublimation inks? Welcome to
contact us
.
FCOLOR is a professional
custom inkjet consumables and ink supplier
with 10 years of experience. Products include: Eco-solvent ink, dye ink, pigment ink, sublimation ink, film ink, DTF printer ink, ink cartridge, inkjet printer, PVC/ID card, card printers, label printers; sublimation/digital printing equipment and consumables; Customers also provide customized solutions.
Bottle With Color box ,OEM Or As Your Request Is OK Universal Refill Ink, Universal Dye Ink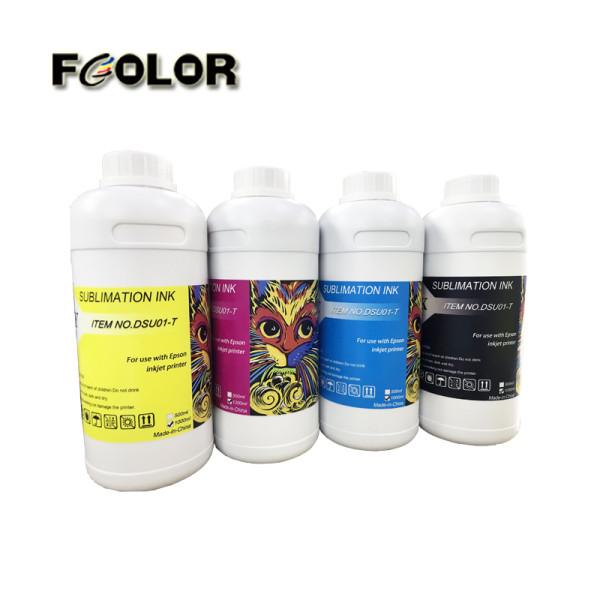 this sublimation ink can be used to print on silk-like polyester, sports T-shirts, cycling jerseys, polyester bags, umbrella...